SAGE JOURNEY TO INDIA – making a difference – volunteer travel at its most rewarding.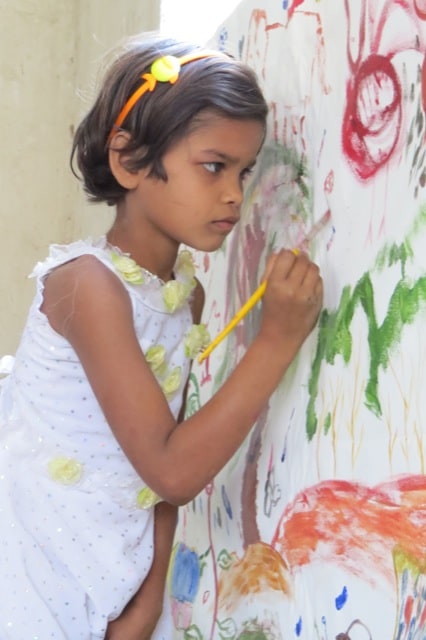 It's not often you get an opportunity to step up and make a real difference while experiencing the joy of volunteering, travel and adventure in a land of paradox. This is exactly what we are inviting you to do when you join us on this incredible journey – volunteer travel – to India.
This 12 day journey to Mumbai and the villages beyond will embed you deeply into Indian culture and give you an experience of India from the grassroots up.
It is 'voluntourism' or volunteer travel at its very best.
This 'tour' is a chance for you to give of your time to help save lives and to give people hope – a combination of social responsibility and the real India.
We will be working with the Sage Foundation teamed with the Shikshangram Shelter for Children. This alliance is involved in an exciting project to create a model village designed to become a sustainable enterprise – consisting of the Sage School of Creative Craft – for retraining under-resourced women in traditional crafts as well as a school and shelter for children who have no home.
Volunteer travel gives you the opportunity to contribute in varied ways – you may be teaching the children English, helping plant trees and establish the organic garden or assisting with the construction of a prefabricated eco house for a training centre.
And don't think when you take a volunteer travel journey that is all work!
We have a wonderful itinerary planned taking in places which are steeped in the historical and spiritual depth of India. This will include the opportunity to visit Dharavi slum in Mumbai.  Many people know Dharavi as the 'largest slum in Asia,' but there is much more to this historic area of Mumbai than poverty. Dharavi's industries have an annual turnover of approximately US$ 665 million.  And on the opposite end of the scale we will enjoy sunset drinks in the Harbour Bar of the famous Taj Mahal Palace Hotel – playground of the rich.
You will leave India with an appreciation of the vastness of this land, the depth of the culture, and the promise of an amazing future – built on social enterprise and to which you will have made a very personal contribution.  For a copy of the full itinerary click here.
Dates: 

Land costs which cover all expenses (twin share accommodation and all meals) are NZD 2195. (flights not included).

Installment payments available on request.
For full itinerary click here.
Use the form below to reserve your place on this volunteer travel journey of a lifetime  – there are limited places so don't delay.
You may also be interested in our add-on extension to the journey when we will travel to Rajasthan – to the intensity of the desert colours and land – being guided by friends who are born and brought up in that land, and who know the absolutely best places to go.
(Please ask for details if this interests you).
We are being supported by some wonderful people – and I suggest you may like to connect with their work.


https://www.b1g1.com/businessforgood/
Volunteer Travel In India – you will never forget this journey of a lifetime.