Kinesiology with Sahaja Springer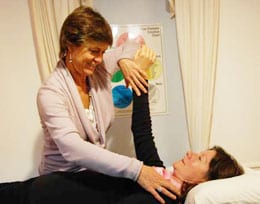 "Every description I have read about what is Kinesiology and how it works falls short of the experience." – Sahaja Springer – Kinesiologist – Intuitive Healer.
It is almost impossible to say what one will experience in a Kinesiology session with Sahaja other then to say that you will feel safe, accepted and free to experience your own knowingness and wisdom of the body. This in turn will assist you to begin your healing journey whether that may be physical emotional or spiritual.
Kinesiology is excellent for alleviating physical, emotional or spiritual pain.
For example physically you may be experiencing sciatic nerve pain. Kinesiology is excellent for finding and realigning muscles that may not be holding the sacrum and hip in alignment and thereby causing pressure on the nerve.
Emotionally you may be experiencing grief over a loved ones departure and once again Sahaja will be able to either help to release or alternatively stem the tide of those feelings if you are feeling overwhelmed.
Spiritually you may be at a loss as to what is your purpose here and kinesiology can help you to know how to contact the understanding of who you truly are.
Of course none of these symptoms are unrelated and therein is the beauty of kinesiology, being able to use the wisdom of the body to uncover how they are related, how they interact and what is the best way to simply unravel the effects.
To experience a kinesiology session with Sahaja is to leave feeling uplifted, in charge and positive.
Call her today on 0402 038885.
Kinesiology Testimonials
To help you discover if kinesiology might be right for you here are just a few examples of other people's experience of the work which Sahaja does.
Thanks again for the wonderful session, so many things resonated very strongly for me and I feel the insights I gained are going to be very helpful for me….. R. Reed
I have been a kinesiology client of Sahaja's for 6 years now. She has helped me and my family on many levels. She assists us with our physical ailments and has supported us through a period of intense grief. Her healings are very insightful and intuitive and I am continually amazed at the process. I always feel more balanced and clearer after an appointment. Sahaja is a gentle caring person who I trust wholeheartedly. I highly recommend the Best Health Centre as a place to visit for wholistic healthcare and wonderful massages.
N. Smith
Sahaja – just a short note to let you know that the treatment you did on my son Jackson some months ago cleared up the problem and he hasn't been troubled since, furthermore he is off to Sydney next week to represent WA in the interstate surf lifesaving competition. Regards and thanks
J Howell
I always feel balanced after a Kinesiology session with Sahaja – realigned to continue on my journey. I often feel I lose my way and a session with Sahaja refocuses me. What I have learned about myself through Kinesiology plants my feet firmly on the earth and enables me to enjoy the every day blessings and changes that life embellishes us with. Thank you
V Saunders
I have been attending the Best Health Centre with Sahaja for over two years. From the first session it has been a truly life changing experience , with every visit I have discovered new and deeper aspects of myself. Sahaja is very intuitive and respectful and I believe gifted in healing both physical and emotional, providing 'best health' for those who require the special service she offers.
Bronwyn R
To find out more about a Kinesiology consultation with Sahaja simply fill in the form below:
Please feel free to connect with us on the form below.