Day One of My New Year Juice Fast
I have been saying it for weeks now – building up to it.. "from New Year's Day I start a five day juice fast!"
I figured that if I said it often enough to myself and to others that I would absolutely have to do it.  I am not one to say something and then not carry it out. So here I am almost midday on New Years Day – and my body is already telling me that something is different.
A juice fast can very quickly demonstrate to you how much you have been overdoing it – remove the coffee and any other heavy foods and your liver is immediately happy and starts to dump the toxic buildup.
An evening of partying on last night ce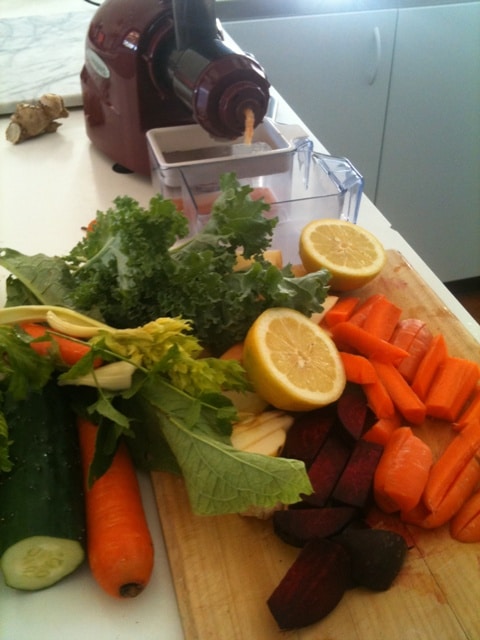 rtainly has not given me the ideal kick start!  I woke up with a bit of a headache already and now it is increasing.  Time for another shot of vegie juice very soon.
So Day One Juice fast – what did I put in the juice today:
Carrots – organic from the market yesterday.
Celery
Lemon
Ginger
Kale from my garden
Cucumber from my sister's garden
Mint
Comfrey
Beetroot
All of that went through our Compact Multi Purpose Juicer & Mincer Living Juice Extractor with great ease and very little waste.
I made enough for three full glasses and stored the rest in the fridge in a jar.  This is fine to do with the grinding action of the Compact Jucier because it does not oxidate the juice and retains the enzymes – if you are using a centrifugal juicer for your juice fast you are advised to drink the juice immediately and not store it for later as it will not retain the goodness.  So  check out the Compact for your juice fast – it will serve you very well for many purposes.
What am I doing this Juice Fast for?
To take off a couple of kilos that I colected over the Christmas period.
To give my liver a rest – the juice fast is great for that.
To clean out my body ready for the intensity of the coming year.
To have an experience of doing something different.
To improve my health.
There are many advantages to doing a juice fast.  Is five days enough?  I don't know yet – but I have set that as my goal and will maintain it until Friday morning and then I will see.  I will keep you posted! Because the benefits of the juice fast may be so good that I want to continue.