Kinesiology – Perth
Kinesiology – Perth
Are you tired of being tired, sick or generally run down?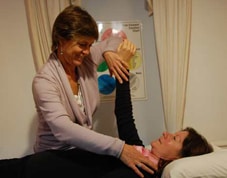 We can help you with Kinesiology – Perth:
"Every single time I work with Sahaja I feel so much better.  Kinesiology with someone as intuitive as Sahaja is brilliant and I recommend it to anyone with any kind of discomfort – dis'ease' to try it."
Julia Hayes talking about the help she received from Sahaja for her insomnia.
A Kinesiology balance with Sahaja can certainly help you.
For renewed vitality in your life… experience Kinesiology – Perth.
Do you have:
allergies
back pain
sinusitis
stiff neck
hot flushes
headaches
low energy
constipation
acid stomach
mood swings
feeling down
skin problems
digestive upset
chronic fatigue
eating disorders
learning disorders
stress incontinence
Candida (yeast) overgrowth
kids with behavioural disorders
Kinesiology – Perth – Can Help!
What Kinesiology can do for YOU.
Kinesiology is a way of helping you to discover the exact cause of your health problems and cancel the effects by asking the body intelligence (bio-computer) questions, through muscle testing.
As a corrective procedure for structural problems kinesiology stands alone in its ability to immediately remove pains and restore function.
In the areas of emotional stress release and self-sabotage, kinesiology offers simple and permanent ways to handle life's challenges.
Kinesiology takes the guess work out of the picture by actually asking your body what it needs and the safe simple methods used can quickly help you to enhance your own recuperative powers.
This list above may seem almost too varied and too good to be true but practitioners of Kinesiology are facilitators of the body's own wisdom and desire to survive, which is inherent in all life and this in itself is what makes ALL the difference!
A Kinesiology session will balance the vital life force energy of the body which will in turn:
reduce and eliminate pain (e.g. in back, neck, head, legs)
greatly increase energy level assist you to be more emotionally stable
repair muscle and ligament damage after an accident
regulate hormonal imbalances e.g. menstrual irregularities
alleviate and eliminate digestive problems
identify allergy causing foods
locate dietary deficiencies
remove cause of allergies
alleviate skin problems
eliminate phobias
correct dyslexia
heal illness
Call her on 0402 038885 to make an appointment. Or for more information contact her with the form below,
For next dates -
Kinesiology – Perth  Training for Practitioners (Touch For Health) – click Touch for Health