Day Five of My New Year Juice Fast
Today's report on the juice fast is here.  Poor sleep in the beginning of the night due to the continuing leg pain when I lay down but I finally managed to get into a position that was comfortable and slept.  Wow what dreams.. I was busy with vivid dreams all night it seemed – although as usual for me .. no memory of them this morning! And also very little of yesterday's leg pain .. good.
But this juice fast is doing strange things to my brain!
I am very 'spaced out' – forgetting what I am doing, walking to one part of the hosue and not remembering why I went there! So perhaps a juice fast of this nature is not necessarily recommended while you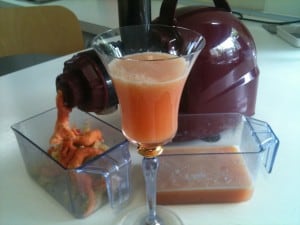 are working in an intense job where you need to be really on the ball.
Anyway as a treat this morning I made myself a special cocktail.  Grapefruit juice – a mix of very tart yellow grapefruit and a pink one.. plus some lemon, and half a granny smith.  Here it is..→
As I tasted it I was ready for real sour tartness.. but no it was extra yummy – and unbelievably sweet for the contents.
Or was that just the change I have in my taste buds due to the juice fast?
It was a delicious start to the day.
Sadly I forgot to put the added zing of the ginger into my juice and already dismantled the Compact Juicer before I realised.
Just the same its a good batch and I am contining to drink it out of the special glass to make the last day of the juice fast just that bit more special.
So what is the final conclusion on this five days?  Go for it. Even if you have no idea what the results may be I highly recommend a juice fast and you are certain to be pleased with the results.