Day Four of My New Year Juice Fast
Whew made it this far.. and only one day to go.  Have to say last night was the worst!  I developed lots of discomfort in the back of my legs and it seemed worse when I was lying down.. so not much chance to sleep.
But you have to expect some detox symptoms when you do a juice fast.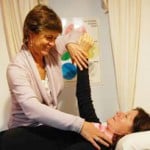 Fortunately for me, Sahaja – kinesiologist extraordinaire – was on hand this morning and gave me a kinesiology balance which has definitely helped me through that phase.
So I am much more comfortable this afternoon.
Just to let you know also if you are considering doing a juice fast – some people think it takes half the day to keep making the juice.  But if you are using a Compact Juicer which grinds the juice rather than a centrifugal juicer, then you can make your whole supply of the day's juice in one go.  If you use the centrifugal type, the juice will quickly oxidise making it unsuitable for storage.
This morning it took me 35 minutes to make enough juice for my whole day's juice fast.
That is from taking the vegies out of the fridge, washing them, cutting them up, putting them through the Compact Juicer – to completely cleaning the juicer out.  So now you have no excuses.. go for it!!
It is not much time to prepare your full day's nutrition for your healthy juice fast.