Day Three of My New Year Juice Fast
This morning's report on my juice fast – my nose is getting very sensitive. Out driving yesterday I smelled every barbeque, every fast food joint, every person's dinner cooking! Hungry? mmm.. yes I could certainly devour a meal .. no coffee craving, no desire for alcohol, but food is attractive.
I am satisfied with little though.  I have eaten a small peach yesterday – an organic one from my sister's garden.  I am needing more salt in my water in the morning.  But this morning I woke with a strange stretching sort of pain in the back of my legs. As if I had done too much stretching – or perhaps not enough.  I am sure a good vigorous walk would have helped but I didn't follow that advice!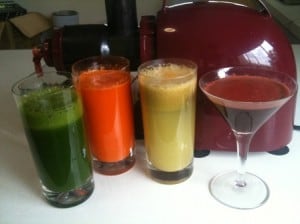 I chose to juice my fruit and vegies by colour this morning and this is the cocktails I turned out.  They were yummy – especially the small reddish one.. lots of beetroot and ginger – very sweet.  The green one was interesting – too strong by itself for my liking – kale, parsely, cabbage, celery, comfrey.
Green was a very intense taste for the juice fast.
The carrot alone was too insipid – and the white juice a little strange – this was cucumber, celery, apple, lemon.  So I mixed them all together and am enjoying the combined tastes.
My Compact Juicer is grinding along very well.  I made enough juice for my whole day's juice fast in under 30 minutes this morning.
This juice fast is an interesting experiment.  I find I am very quiet inside, with little mental chatter going on.  My energy levels are okay – but I also need to take things a little slowly.  I still had some coating on my tongue this morning – detoxing I guess – and the scales say I have dropped a kilo.
Not bad for two days juice fast.
I have clients this morning – it will be interesting to be in a work situation and see how I am responding to that.
But if you are planning a juice fast, then definitely start it when you are having at least two days off so you can rest up during the initial detox period.